Please use the form below to create a support ticket if you need to ask us something.
The Warehouse and Internet Sales
The offices and phone lines are open Mon – Fri, 8.30am – 5pm GMT
Sales: info@herringshoes.co.uk
Warehouse (internet sales)
Old Station Yard
Kingsbridge
Devon
TQ7 1ES
England
Our customer service staff are all shoe experts. Speak to them now: +44 (0)1548 854886.
You can also chat to us via WhatsApp - just click below to open a chat if you have the app installed on your device.
Herring shoes trade from our Kingsbridge shop in the UK, and the web site runs from our warehouse location in Devon. Please note that the shoes displayed on the web site are not always available in the shop so please call before making a journey to make sure it is in stock.
Please don't call the warehouse with enquiries about shoes in our shop.
Kingsbridge Shop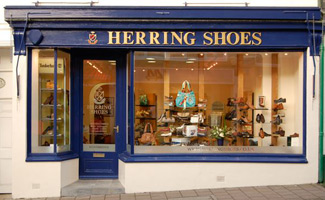 58 Fore Street
Kingsbridge
Devon
TQ7 1NY
England
Tel: 01548 858988
Opening hours: see our Google Business Listing
Please don't call the shop with enquiries about shoes on our website. Our customer service staff are equally as expert - you can contact them at +44 (0)1548 854886. Please do NOT send any returns to the shop, because then we have to go and fetch them, and although Kingsbridge is not a big town, it's very hilly!
Herring Shoes Limited
Registered Company Number: 3919412
Registered Office: Herring Shoes, Old Station Yard, Kingsbridge, Devon, TQ7 1ES, England
Directors: Jason Simmonds, Stuart Paver, Jason Paver
UK Vat Number: 742 4261 50
E-mail: info@herringshoes.co.uk
Website: https://www.herringshoes.co.uk
Trading Address
Old Station Yard, Kingsbridge, Devon, TQ7 1ES, England +44 (0) 1548 854886