Herring Adverts
We use a marketing company to provide targeted adverts to you if you have browsed our website. The adverts are not intended to annoy so we have provided this page to help any customers who wish to suppress them.
How to stop Herring ads from appearing
Whenever you see a Herring advert, on any device, you will see a triangle on the top right corner like the example below: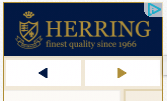 By clicking on the triangle you will open a page with various options allowing you to disable the ads temporarily or permanently. If you do so, our ads will stop appearing although there may be a slight delay between updating your preferences and the ads stopping.
You can also visit Criteo, the company that provide the adverts, where you can change your preferences.
Alternatively you can opt-out of interest based advertising by visiting the networkadvertising.org website: networkadvertising.org. This will allow you to set preferences for all companies that are serving adverts to you.
If you have any issues we would be happy to hear from you.