The Chelsea Boot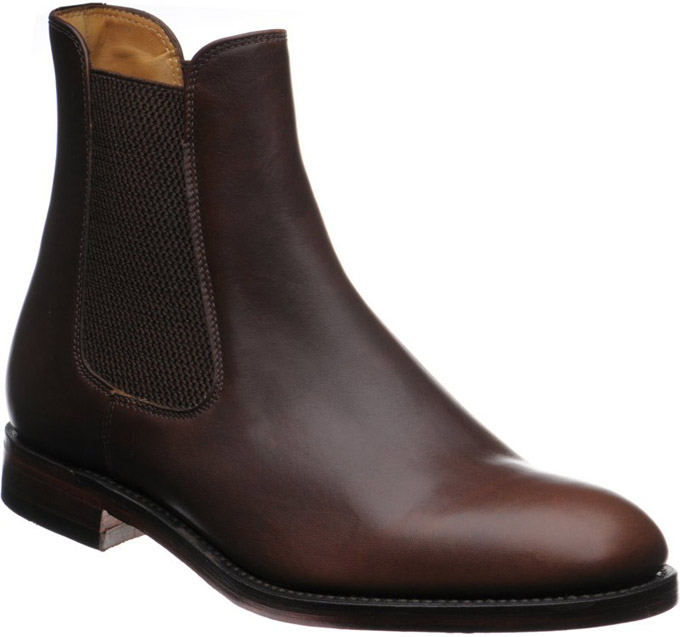 The Chelsea is an elastic sided boot popularised, and possibly invented, for Queen Victoria in the 1850s. Most boots, up to that point, were secured by laces, making them suitable for working in muddy fields but very hard to make elegant. The simple fact of the laces and facings sitting on top of the vamp made the boot more bulky.
The Chelsea boot solves this problem. By making the sides elastic, the foot can enter the shoe but still be secure enough on the foot for walking. It wouldn't be suitable for the rugged outdoor work that a traditional lace-up boot could cope with though. The Chelsea, however, was never designed with ruggedness in mind. The sleek, smooth vamp of the Chelsea boot is reminiscent of a fine wholecut shoe, yet it can have a rubber sole and offer some of the traditional protection of a lace boot. Particularly in a dirty environment like the streets of Victorian England.
If you look at the current way of wearing the Chelsea, it is very much in keeping with the origins of the shoe. It is a very adaptable shoe. It can suit a businessman wanting a sturdy, yet refined shoe, or for the casual wearer wanting a shoe that will cope with most conditions on a weekend away.
We have listed some of our Chelsea boots below for you or view all our Chelsea boots here.