Jaz Ellington
Singer
Shoes featured in this profile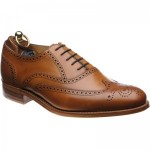 Jaz shot to fame with his acapella rendition of ordinary people on "The Voice". His moving singing brought Will.i.am who wrote the song, to tears.

Jaz was then a semi-finalist in the competition and won many people's hearts. Unsurprisingly there has been a lot of interest in his musical career and we were excited to get a preview of his new single!

When it is released we will update this page with details.
"These Herring shoes are unbelievably well made, I love the attention to detail."