The Oxford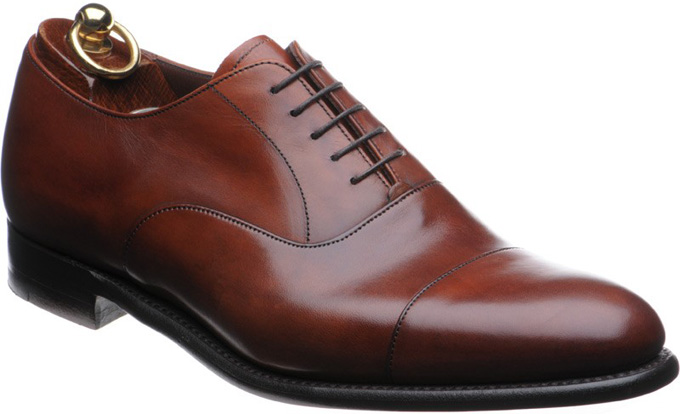 In the UK the term Oxford is often used to mean a toe cap shoe but the term actually refers to the way the shoe closes. If a shoe has a simple slit in the top of the shoe, with eyelets either side that pull together with laces, then you can call it an Oxford. This means that you can have Oxford toe-caps, Oxford brogues and Oxford semi-brogues.
Due to the fact that the facings are flat to the top of the shoe, as if they are a continuation of the vamp (in the case of whole-cut shoe it is the same piece of leather) the shoe appears to be almost seamless. This allows the design of the shoe to be very sleek, so you will find most of the longer lasts and pointed shoe designs will be Oxfords.
The elegant profile of the shoe means that it has naturally been adopted as the most common shoe style to be worn on formal occasions. Many businessmen will wear a black oxford such as Herring Knightsbridge to go with their suit. Similarly weddings, christenings and funerals, job interviews and formal balls are also common occasion where such a formal shoe will be suitable. View all our oxford cap shoes.
The origin of the name Oxford is believed to be Oxford University. A slit opening boot became popular amongst students and this basic approach to the fastening evolved into the current style.