The Two-tone, Spectator, Co-respondent, Saddle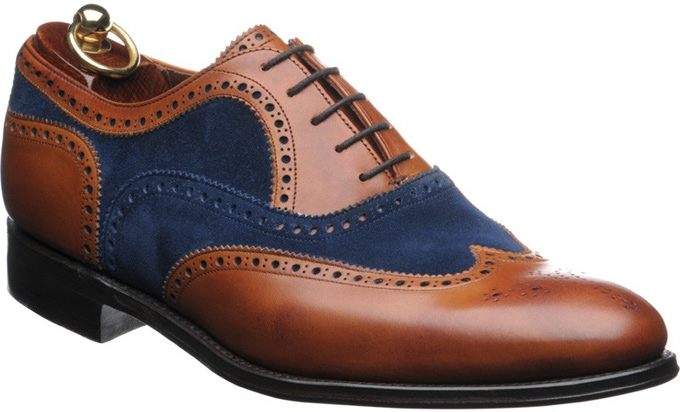 The Spectator is the most common welted footwear design to use two different colours. This two-tone effect is created by using different leathers for the toe, vamp, facings and counters. The wingtip or full-brogue brogue pattern is the natural style for this effect because it already has different pieces of leather for these parts of the shoe.
Spectator: the term spectator comes from outdoor, sporting gentlemen, taking to this style of shoe for golf and cricket. After a while the shoe became popular with the spectators at these events and the name was adopted. View all our spectator shoes.
Co-respondent: an alternative name for a two-tone shoe is the co-respondent. This name, particularly in the UK, came from a perception that they were ungentlemanly and were worn by the "wrong sort". This perception was encouraged by the most notorious affair of the 1930's when King Edward VIII abdicated from the throne to marry Wallace Simpson. She was a divorcee and still married to her second husband when the King proposed marriage.
A co-respondent in English law is the term for a person named in a divorce suit as the wrongdoer. Both Edward and Wallace were fond of two-tone shoes and so the association became stronger between the bright shoes and marital infidelity. Fortunately these original misgivings are now only of historical interest. Our two-tone men's shoes are now almost as popular as the simple black oxfords. View all our co-respondent shoes.
Saddle: although most two-tone shoes are based upon the brogue, there is another variation that is also popular; the saddle shoe. A single piece of leather is placed over the top of the shoe, as if it was a saddle on a horse, usually in a darker colour than the main body of the shoe. View all our two-tone shoes.